Juniper Branch Pillow with Tassels — Item 132
Price:
Sold
USD
Shipping:
USD
Tax:
USD
Description:
Embroidered Juniper Branch Accent Pillow with Dark Blue Tassels
From an embroidery point-of-view, this is a stunning pillow. It has over 50,000 stitches — and when it was digitized, every one was hand-clicked! The embroidery machine must stop and cut threads 345 times! It takes over 3 hours of machine time to complete. The result is a design with an amazing depth and tactile feel.
The original design is from a book called, "A Description of the Genus Pinus" by Aylmer Bourke Lambert, Esq. F.R.S. F.S.A. This book was published in 1803, and is now in the public domain.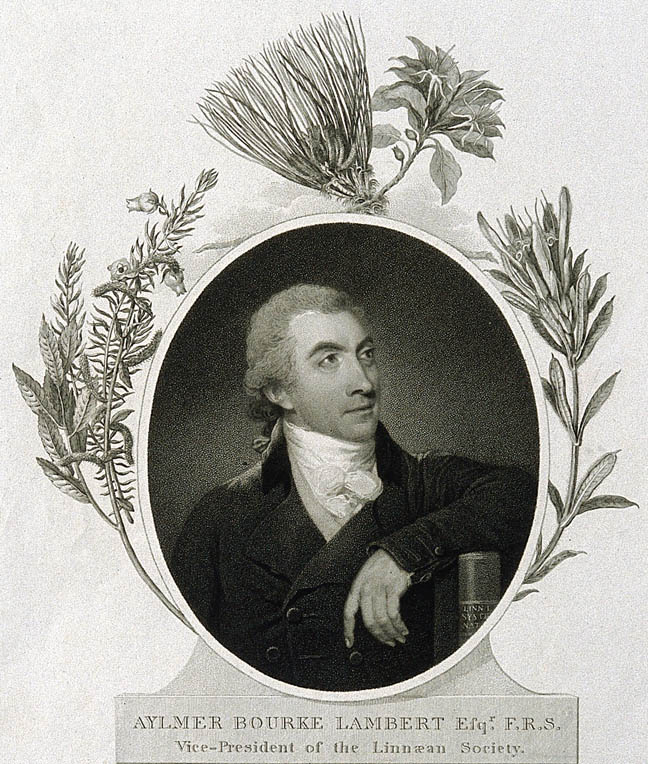 Lambert was a botanist that was fanatical about the Genus Pinus — Pine Trees.
This juniper branch was from Plate 42. I will not repeat the full description of this plant's genus. It takes about 100 words in Latin! (Botanists can be crazy!) Here is a small quote from the description in English.
"There are great plenty of these trees growing at a place called Busaco, near Coimbra, in Portugal, where this tree is called the Cedar of Busaco; and there it grows to be a timber tree, so that from thence the seeds may be easily procured. This tree grows naturally at Goa, from whence it was first brought to Portugal, where it has succeeded and been propagated: formerly there were some trees of this sort growing in the Bishop of London's Garden, at Fulham, where it passed under the title of Cedar of Goa, by which it was sent from thence to the Leyden Garden with that name."
I get a kick out of reading these old scientific descriptions. They try to convey pure science, while also having a very nationalistic zeal to them. This juniper is not English — the English Garden it was sent to is not important — the important detail is it is a plant from Portugal!
Anyhow, this pillow is approximately 12 by 16 by 4 inches in size. It has a new, soft pillow insert. The front panel fabric is a light tan color. It uses a suede-like fabric. The back panel is a dark blue — Navy — textured fabric. The fourth photo is slightly over-exposed to give you a better feel for the underlying blue color. The fifth photo — the one with the side view — best shows how this shade of dark blue will look in normal lighting. The last photo is copy of the inspiration photo. This should give an idea of how close this design matches the original.
Notice how the dark blue complements the color of the Juniper berries.
This embroidery design would be very interesting on purses. If you are interested, please contact with your requests.
Availability:
Sold
Link to this item on Etsy.
Link to this item on Ebay.
Link to PayPal
Size/Sizes:
This pillow's size is approximately 12" x 16" x 4".
Fabrics:
Cotton, Polyester
Insert:
This pillow includes a new, soft insert — which is hand-sewn inside.
Suggested Products:
This design is great for: totes, bags, purses, pillows and sweatshirts.
Payment Information:
PayPal/Check (More Info)
Shipping Information:
USPS (More Info)
Tax Information:
Keywords
Juniper, embroidered, pillow, tassels, throw pillow, accent pillow, real estate agent, staging, cabin, blue, navy, tan, embroidery, Embroiderglyphs, Aylmer Bourke Lambert, Busaco, Portugal, Cedar of Busaco, Genus Pinus
Miscellaneous Information:
None.
Ask A Question: